Joel Bauer's Mastering the Power of Persuasion 2-Day Transformational Training was held at MAX Atria, Singapore Expo on the 13 September (Friday) and 14 September (Saturday) 2013. 
I came across the advertisement when I was reading the Straits Time on the afternoon of 1st September, Sunday.
The header of the advertisement caught my attention.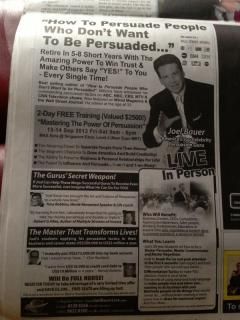 "How to persuade people who don't want to be persuaded?"
Who wouldn't want to be able to do that?
"Wow. 2-Day FREE Training?!" *Raised eyebrow*
It sounded too good to be true.
And then the points (in bold) jumped out at me as I moved my eyes down the ad.
"Separate People From Their Money – Every Single Time!"
"Draw Attention And Crowds – Guaranteed!"
"Influence And Persuade… One-on-One and One-on-Many!"
"Preserve Business & Personal Relationships For Life!" 
.
.
.
"I want this," is the only thought I have in my mind.
Was I skeptical about it? You bet.
I've attended my fair share of events that have turned out to be paid previews and pitch feasts.
But… there are usually multiple speakers, with each of them taking on one segment of the event and the audiences are bombarded one after another with their products, tools and trainings.
When there is only one trainer conducting a preview for a program, it will usually only be a few-hour event.
No trainer in his or her right mind will invest two full days and not charge a single cent simply because venue rental, logistics and manpower all costs money.
And the Singapore Expo is not cheap.
"What is this guy up to?"
Regardless of what he is up to, I know that I'm going to attend the workshop:
The advertisement/sales copy itself is extremely persuasive.
The offer is too good for me to refuse.
(He will be teaching everything that I want to learn, free of charge!)
I've got nothing to lose.
(The only thing that I need to invest in is my time.)
If it is going to be a pitch feast, I will know it within a couple of hours and I can choose to leave anytime.
I will definitely learn something over the duration of two days!
I'm extremely curious about what this Joel Bauer guy is up to and what he has to offer.
With an open mind, I signed my hubby and I up for the event, went for the event and … oh my god!
I'd been so busy prior to the event that I did not even do any background research on Joel Bauer. I had no idea who he was except that he is some Celebrity Persuasion Guru from the US.
The first impression that Joel Bauer gave me is that this guy means business.
He is very well dressed, knows what he is doing (well prepared), authoritative and extremely punctual (he WILL start his training on time or even earlier).
Even though it is a FREE training, he actually respect and took the whole training seriously.
And…
He OVER-delivers.
By the end of the 2 days, I must admit that the training is an extremely good one.
Not only did he share with us his life's work, he is all for "do what you love, and the money will follow" and to work the smart way (without having to spend a lot of time working).
He is also all about 'playing the cards to your advantage', which I feel is extremely brilliant.
Over the 2 days, he was getting people to focus on their dreams and passion, and made "chasing your dreams" seemed so easy and achievable.
He has debunked fears, misconception and unuseful beliefs that many people have by sharing his knowledge, experience and his system.
The entire 2-day event is so well thought out like it is a good game of chess. He has demonstrated with grace how he used and applied his system over the 2 days to sell his system and his Profit Point Asia program.
"There is no magic," he said. The man has absolute confidence in his system and it feels like he genuinely cares that he has touched another soul with the work that he does.
I believe you must be very curious at this point about whether did I fork out any money for his system or program.
I did not. Not yet because I'm saving up for it.
Joel has definitely has inspired me and changed my thoughts that my dreams and aspirations being impossible to reach.
I sincerely appreciate his sharing and for investing two days of his time to do this training.
Hereby, I thank Joel Bauer from the bottom of my heart for altering my perception and hence desensitized some of my worse fears.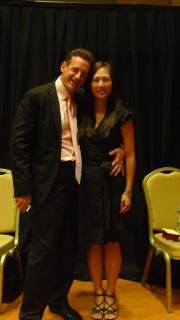 We are all meant to shine. 
So, if you too, like me would like to experience the magic of Joel Bauer and to feel alive with your dreams again, grab your free tickets to Joel Bauer's Mastering the Power of Persuasion, a free 2-day event on 16-17 November 2013 at Singapore Expo!
An unbelievably long queue had formed extremely early on both days of the event! So, if you are joining me at this event, please do come early to reserve a good seat and drop by to say hello to me!
Everyday we learn and we grow.
You friend,
Nicole